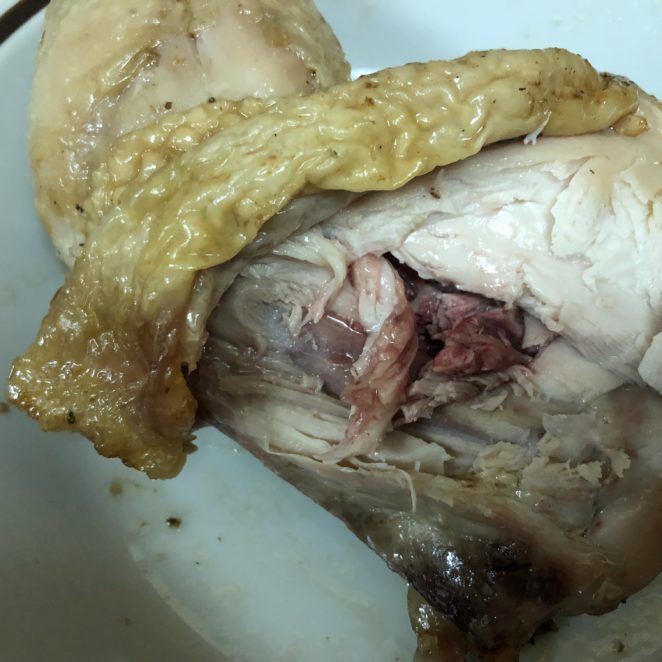 What you see: Chicken meat that looks red or dark purple, especially close to the bone.
What it is: Bone marrow pigment that seeped into the meat.
Eat or toss: Eat! The discoloration has nothing to do with how "done" the chicken is. As long as the chicken was thoroughly cooked, you're fine.
Is chicken with red inside safe?
When you slice into a chicken thigh and parts of the meat are reddish/purplish, it's easy to assume the worst: you're dreaming about performing surgery on a chicken and if you fail everyone will turn into potatoes.
I mean, it's easy to assume the chicken was undercooked and your dinner could be a food safety risk.
But, relax. That weird color in your bird is a red herring (ha…?) and has nothing to do with safety.
Instead you're seeing pigments from bone marrow that have seeped into the meat and stained it shades of purple and red (and this is why you tend to see these intensely colored areas near bones). In the U.S. many broiler/fryer chickens are slaughtered at just 6 to 8 weeks old. Their bones haven't totally calcified and are especially porous. That makes it easier for the vividly colored marrow to leak through.
The color seepage can be exacerbated if the chicken is frozen while still raw. That can cause the bone marrow to expand, further damaging the bones and creating cracks through which more marrow can leak.
Red color in chicken doesn't mean it's undercooked
Greg Blonder, Boston University engineering professor and co-author of Meathead: The Science of Great Barbecue and Grilling told Epicurious that the color comes from myoglobin, a protein that stores oxygen. Myoglobin's color varies from purple to red to brown depending on whether it's carrying oxygen and some other factors.   
The true test of whether chicken is safely cooked is if it reaches 165 degrees at the center. At that temperature foodborne pathogens quickly die.