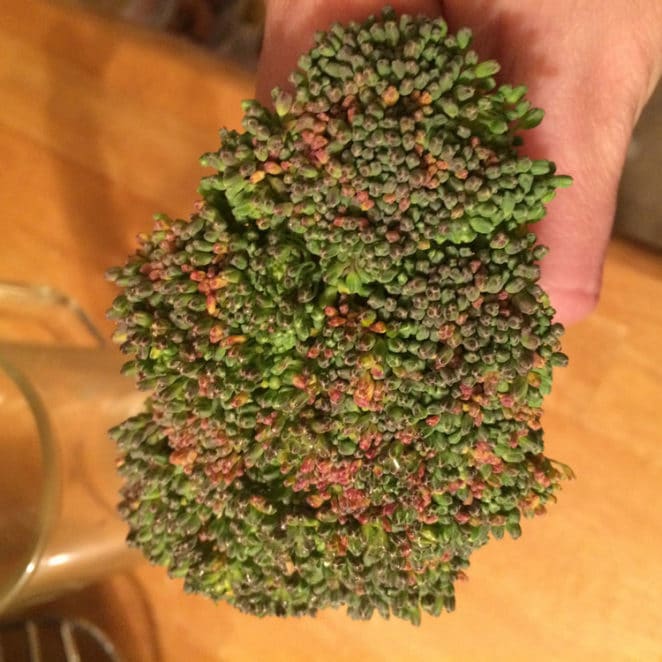 What you see: Florets that are somewhat loose, and possibly turning brownish colors.
What it is: Broccoli buds about to bloom!
Eat or toss: Eat!
So, can you eat broccoli with loose florets? What if they're purplish or brownish?
The little beads across broccoli heads are actually little buds on their way to flower-dom. Chefs prefer those beads hard and tightly packed together, which is probably what you're used to.
But this stalk of broccoli was harvested later in its life. The little beads are looking more like the little flower buds they were always meant to be. They've loosened, giving themselves more room to open, and their changing coloration, from green to brownish, pinkish hues, suggests that they're about to sprout tiny, yellow broccoli flowers.
With a little coaxing, broccoli like this just might flower.
A broccoli bouquet?
"Do you still have this?" Chris Gunter, vegetable production specialist at North Carolina State University, asked when I consulted him. "If you cut the end off and stuck it in a glass full of water you may be able to get some of them to open."
The broccoli had long been eaten, but I'm going to look out for more heads like these so I can cultivate my own broccoli flower arrangement. And, after we've enjoyed a pretty broccoli bouquet, we're definitely going to eat it.
[UPDATE! Several years after writing this post, I was lucky enough to discover some about-to-bloom broccolini in a box from Imperfect Foods. Here's what it looked like after a night in my little jar of water. Scroll to the bottom of the post to find more pictures of my flowering veg!]
But, will the about-to-bud or flowering broccoli taste OK?
Cooking with older, flowering broccoli
There's nothing harmful in the flowers. However, whether you cook up your broccoli when it looks like the image above, or when its flowers are already blooming, you may find that the flavor and texture are a little different.
Some report that about-to-bloom broccoli florets can be mealier than their more tightly wound younger selves and that they taste bitter. Botanically speaking, that makes sense. A flowering plant is deploying defense mechanisms to keep away hungry herbivores. Like you.
But, don't discount flowering broccoli just yet. Some recipes specifically call for it! Check out this broccoli flower soup. And having eating flowering broccolini, which is pretty similar to broccoli, I can confirm that I noticed very little difference in flavor. Maaaaybe it was more intense. Maybe.
On her blog, Northwest Edible Life, Erica Strauss, a chef-turned-urban-homesteader, says that when you cook with flowering broccoli, you're best off treating it like mustard greens as the flavor will be more intense. (Here are some hints on how to work with that intense flavor.)
NC State's Gunter notes that diets in the U.S. don't tend to contain a lot of bitter vegetables, but other cultures do. So, maybe, just maybe, there's a chance that flowering broccoli could be the next kale?
Consider it flower power.
Watch my broccolini bloom!
Here's what happened when I discovered some about-to-bloom broccolini in a produce delivery.
SOURCES:
Chris Gunter. Vegetable Production Specialist and Associate Professor. North Carolina State University.
If you ever encounter flowering broccoli, snap a pic and send it to [email protected]!