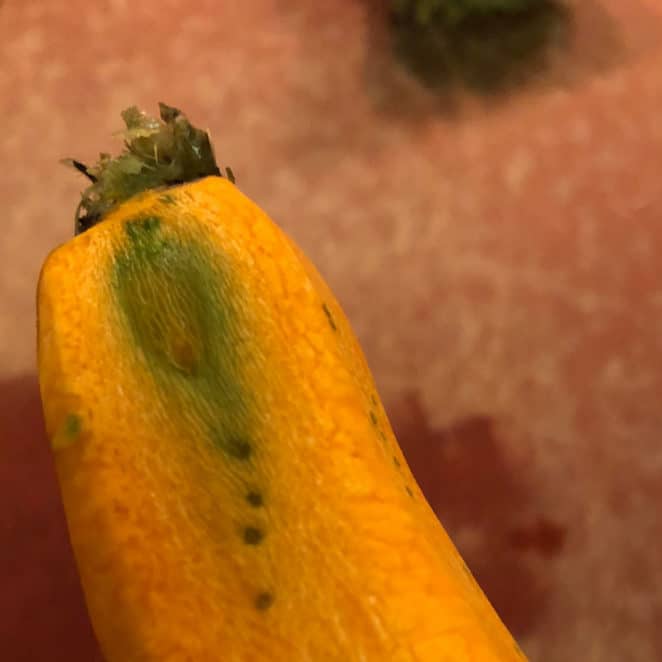 What you see: Green inside your carrot
What it is: Chlorophyll that developed after excess sun exposure
Eat or toss: If it's just a ring, like you see here (which can look like dots depending on how you peel or chop), then go ahead and eat. If it's VERY green, give it an assessing taste; it may be too bitter for eating. The green color doesn't indicate that the carrot is unsafe.
So, why is it OK to eat a carrot with a green ring or dots on the inside?
Even though carrots grow underground, if exposed to sunlight they can send in photosynthesizing chlorophyll and turn green. In a previous post, we saw that happen on the top of a carrot. This was all perfectly logical because that part of the carrot was most likely to have gotten sunlight (if, say, the soil shifted and left some of it exposed).
So what do we make of this carrot, which appears to have a ring of green on its inside, an area that we'd assume was protected from the sun?
Irwin Goldman, a horticulture professor at the University of Wisconsin-Madison, confirmed that the green in the carrot pictured here comes from chlorophyll. As for how it got there, he said it was hard to say for sure, but theorized that at an early stage in the carrot's growth, a certain part of its crown was exposed to too much sunlight. Possibly the leaves weren't covering the top enough.
Green appeared at the border of the carrot's xylem and phloem
The area that got unexpected sun exposure went on to form the barrier between the two regions of the carrot, the inner xylem, which sends water and nutrients from the soil to the rest of the carrot, and the outer phloem, which delivers sugars from photosynthesis to the root. In this carrot the xylem and the phloem are different shades of orange (in some carrots they are dramatically different colors). Look closely at the image to the right and you'll see that the green ring circles the xylem.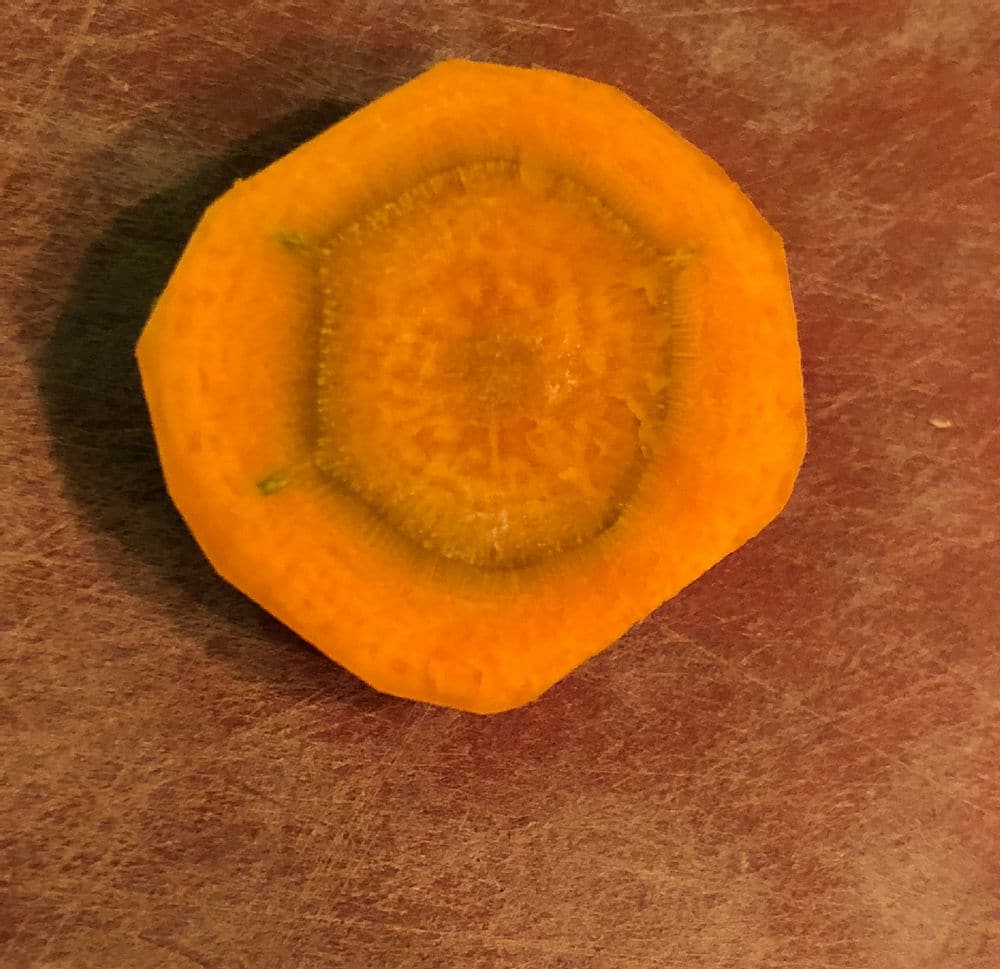 Whatever the cause of the green ring, Goldman said there's nothing unsafe about eating this carrot. But keep in mind that chlorophyll can be bitter. So the green areas may taste different. Sample them to make an informed choice.
And, just to cover all our bases: when most produce (like onions or garlic) turns green from sun exposure , it generally does not present a safety issue. Green potatoes are a different story and require some caution because they may contain elevated levels of a toxin.
Speaking of green and carrots…. did you know that you can eat carrot greens? The leafy bundle on top is great in pesto and all sorts of other recipes. Here are some ideas.
Updated May 2023