What you see: Grayish areas on your boiled potatoes.
What it is: The technical term for this is after-cooking darkening, ACD for short.
Eat or toss: Eat! Gray areas that appear on potatoes after boiling are safe to eat; they're just showcasing some color-changing chemical reactions.
Gray areas on boiled potatoes are OK to eat
That ghostly gray coloring on your boiled potatoes is a harmless chemical reaction that won't affect taste, nutrition, safety or texture. Read on for why this happens and how you can, and can't, prevent this dark drama.
After-cooking darkening, starring iron and chlorogenic acid
Consider some raw potatoes.
Along with loads of starch, vitamin C and other potato-y goodness, they contain iron and chlorogenic acid, an antioxidant that comes in handy for things like warding off insect invaders.
Now we're going to boil these potatoes. You can't see it happening in the image below, but the heat is helping iron hitch onto the chlorogenic acid, giving us ferri-chlorogenic acid, which is colorless.
So far, we've rewired the potatoes' chemistry a bit, but nothing has happened to cause a color change.
Enter, air.
After you remove potatoes from the cooking water, ferri-chlorogenic acid slowly mixes with oxygen, creating a color that can range from gray to black to purple to bluish.
The color change is gradual. So potatoes that seem fine when you put your dinner leftovers in the fridge may not show off their smokey new look until morning.
Scientists call this "After-Cooking Darkening." I like to think of it as Potatoes, After Dark.
Lots of factors impact graying in potatoes

Clearly, not all boiled potatoes go gray. Genetics, soil type, growth conditions, storage time and environment, size, maturity and bruising can influence the potato's chemical balance and therefore its susceptibility to after-cooking darkening. Potatoes grown in wet, cloudy and cooler conditions show higher susceptibility to ACD than those grown in dry, sunny and warmer conditions.
Also key to the intensity of the graying is citric acid concentrations. While you might associate citric acid with citrus fruits (and, indeed, as much as 8 percent of a lemon or lime's dry weight can be citric acid), the weak acid shows up in smaller amounts in just about all plants.
In potatoes, citric acid can prevent or reducing graying, by hooking up in a colorless fashion with iron and keeping it off chlorogenic acid's train to Graytown. But both chlorogenic acid and citric acid concentrations fluctuate based on each potato's individual life experiences, making it difficult to predict which potatoes are gray-prone.
Preventing after-cooking darkening in potatoes
But there's one way you can tip the gray scales in your favor: cooking water. Given how citric acid can inhibit the color-changing reaction, in On Food and Cooking: The Science and Lore of the Kitchen, author Harold McGee recommends adding a little acid of your own (specifically, lemon juice or cream of tartar) halfway through boiling your potatoes.
We haven't tried that here at EatOrToss headquarters, but if you do, let us know how it goes! Of course, it'll be difficult to know if the lemon juice held off the color change or if you just happen to have a batch of potatoes without dark souls.
Also, don't store whole raw potatoes in the fridge. The cold temperatures can cause all sorts of problems, including making the potatoes more likely to gray after boiling. Extended storage at cold temperatures increases chlorogenic acid concentration in potatoes.
Some potato areas more likely to gray than others
You may also notice that the gray ghost tends to inhabit one end of the potatoes. It's most likely to show up where the stem used to attach, and, incidentally, where our friend chlorogenic acid (we really are getting quite friendly, aren't we?) tends to be more concentrated. Citric acid hangs out more at the other end.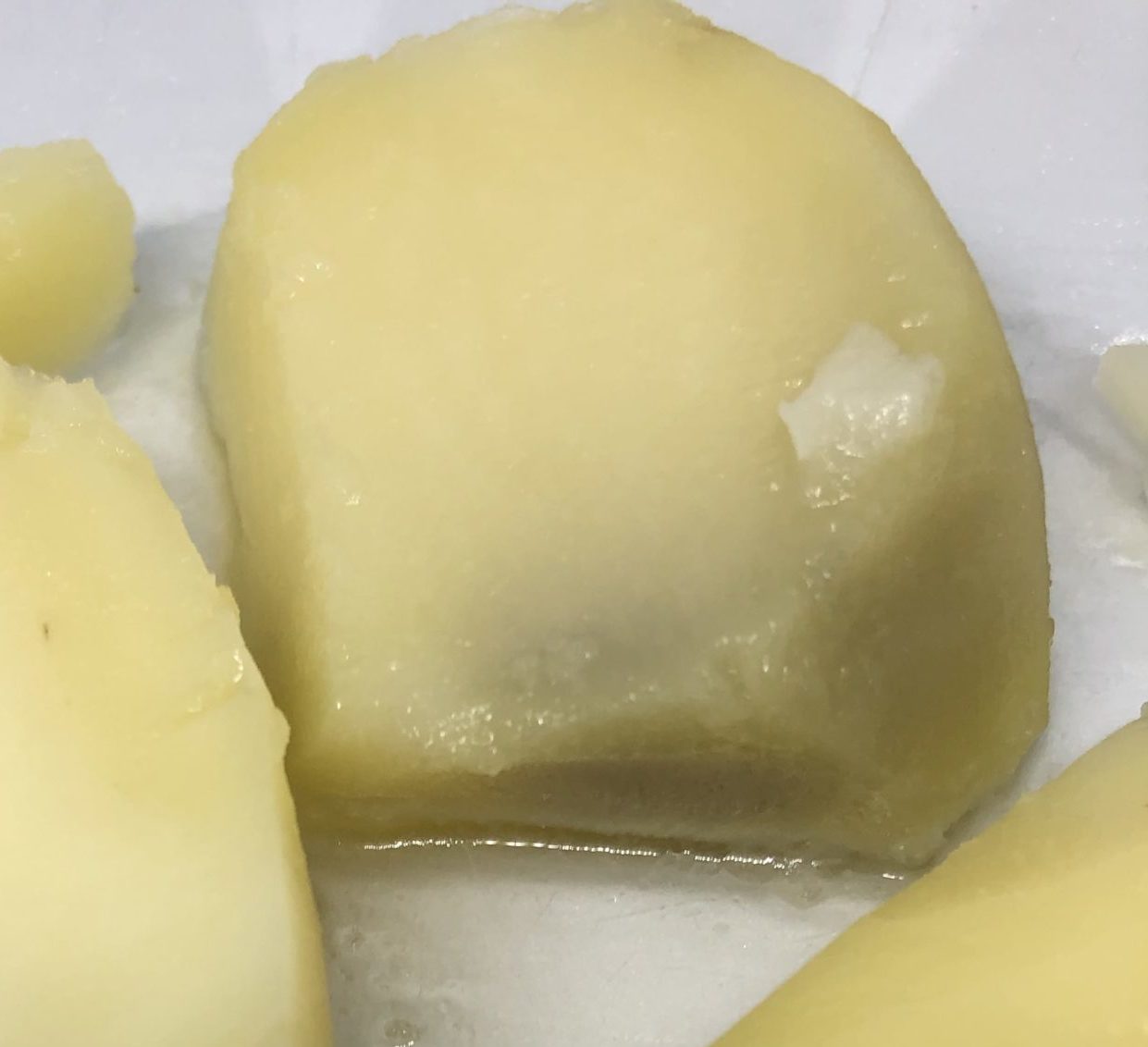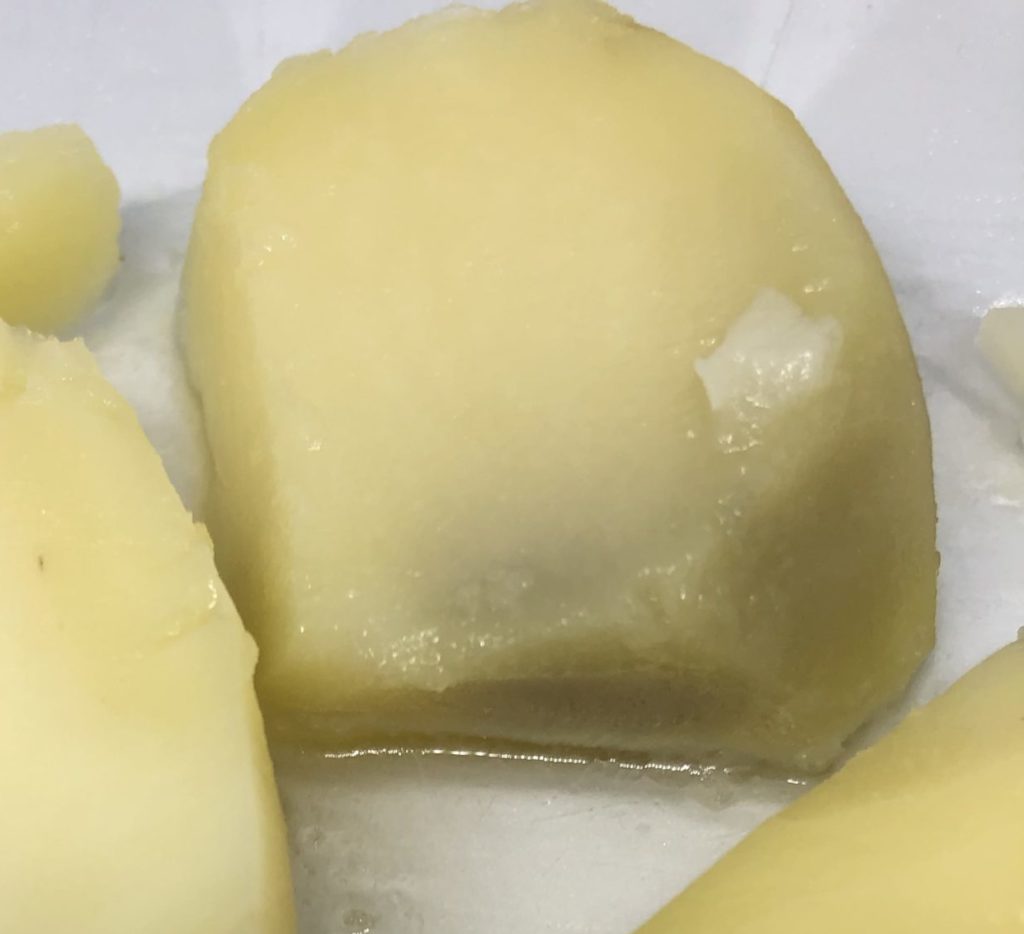 The discoloration also shows up more on potato flesh just below the skin, and lessens as you move toward the center of the potato.
Varying cooking methods and after-cooking darkening

ACD is most associated with boiled or steamed potatoes. But it can show up in potatoes prepped in other ways, including in dehydrated potatoes.
After-cooking darkening is different from blackening on raw potatoes

But ACD is different from the blackening you might see on a sliced, raw potato left in the fridge. That's a whole different set of chemistry.