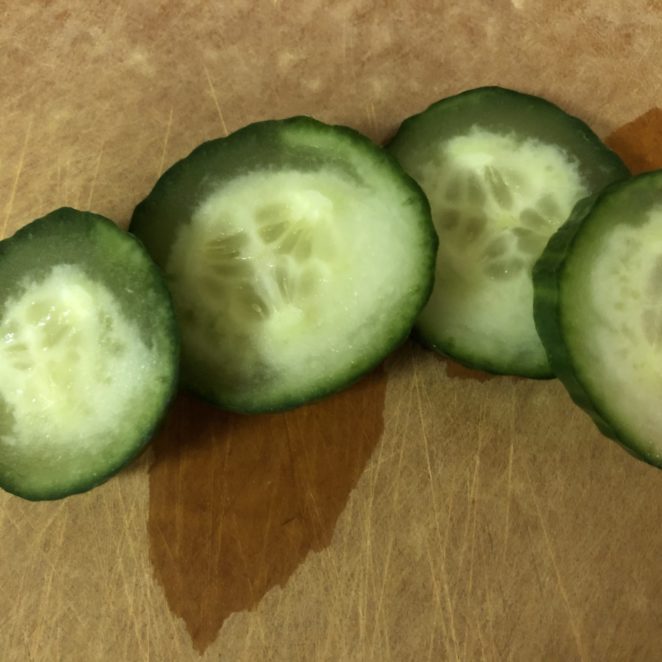 What you see: Parts of your cucumber or cucumber slices are translucent and look "water-soaked." 
What it is: Chilling or freezing damage. 
Eat or toss: Eat! These cucumbers are not unsafe, but will not be top quality. But don't delay—they will rot faster. 
Can you eat cucumbers with translucent areas?
First, just a friendly reminder that raw produce is alive and its cells and systems are still humming along, even as, say, a cucumber like this sits in your fridge awaiting salad-dom.
And each type of produce responds differently to different temperatures. While refrigeration is useful for important things like slowing microbial growth and keeping foods fresh, it can also mess with certain fruits and vegetables that are accustomed to warmer environments.
Which brings us to this cucumber and the translucent areas developing just under its peel. What gives? Cell membranes! Literally! Very cold temperatures weakened the cells' protective barriers, causing liquid to seep out. The refrigerator's climate can also lead enzymes to misfire, which impacts the cucumber's flavor and causes it to age faster.
Why doesn't the liquid simply spill out of the cucumber?
Imagine each cell as a wax-lined paper bag filled with liquid. The wax keeps things watertight and tidy, but if that impermeable layer wears away in some spots, liquid seeps out and pretty soon all the bags are soggy. That's kind of like what we see in this cucumber (and in other produce, from cilantro to cantaloupe, that goes translucent and "water-soaked" when it gets too cold). The liquid leaks into the space between cells, creating that wet, translucent look.
When we're talking about a cucumber, which is more than 90 percent water, the right (or, perhaps, wrong) circumstances can liberate quite a lot of liquid.
Penelope Perkins-Veazie, a horticultural science professor at North Carolina State University, described the cascade of cold-induced events like this:
"You start this whole chain reaction going on with the enzymes saying, 'Hey, it's time to start breaking down this stuff.' And then on top of that, the cell membrane's going, 'I can't hold you back anymore, I have holes in myself now because I needed the warmer temperatures to stay glued together.'….So you end up with stuff happening in the cell and the membrane can't hold back anymore from the other cells. And then you start dissolving everything. And then you end up with complete tissue collapse."
Pretty dramatic stuff, no? Depending on how low temperatures get, scientists call this "chilling injury," or "freezing injury," and it can also show up as pitting, general softening and even color change. We've previously written about how potatoes, eggplants, plums and avocados can be impacted by too-cold temperatures.
Here's a more severe cucumber case: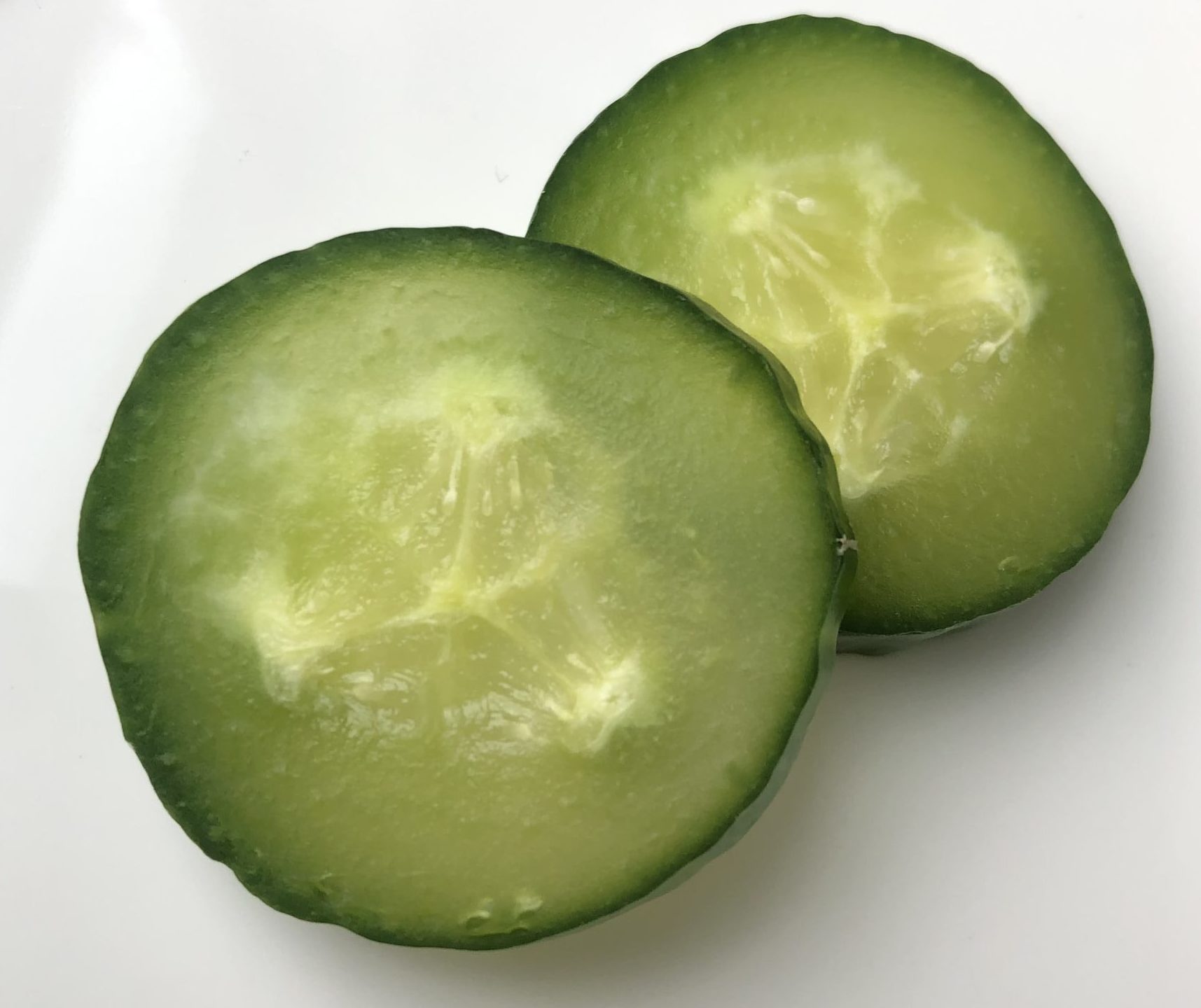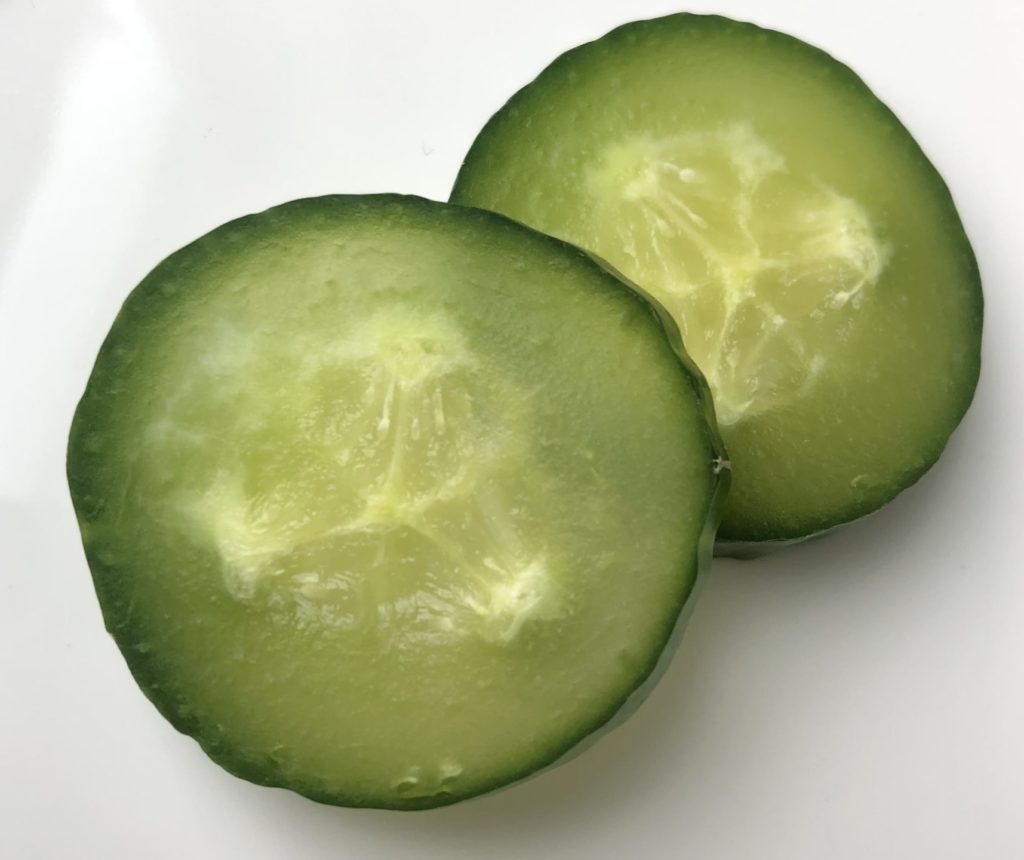 A cucumber with translucent areas is still safe to eat
But all hope is not lost. Because while a cold-injured cucumber may not taste as good or be nice and crisp, the drama is purely physiological. It doesn't mean that the cucumber has become unsafe to eat.
It does, however, mean that the cucumber, with its softer flesh and weakened cell membranes, is more vulnerable to microbes; it won't last much longer in your fridge. Use it quickly! If you are really turned off by the water-soaked look and diminished texture, consider blending affected cukes into gazpacho.
How can you store cucumbers while also preventing cold injury?
All this talk about too-cool cucumbers may leave you wondering whether the fridge really is the best place to store them. Since a cucumber's ideal temperature is above 50 degrees and since refrigerators need to be 40 degrees or lower to keep vulnerable foods safe, some folks advocate storing cukes on the counter. But that only works if you're going to use them in a day or two. Wait longer than that and they'll probably get wrinkly and soft.
So, the fridge isn't an ideal environment, but it is the best option home cooks have. In a piece that does some great myth busting on cucumber storage, EatingWell concludes that the most reasonable compromise is stashing cucumbers in your fridge's door or at the very front of a refrigerator shelf. These areas are warmer because they have the most contact with the room-temperature air in your kitchen and are farthest from the cooling elements.
Still, while the risk of chilling injury is real, even cucumbers stored in a crisper drawer can still stay good for quite some time. Here at EatOrToss headquarters, we do occasionally deal with chilling injury, but have found cukes typically last just fine for at least a week in most parts of the fridge. We find chilling injury is more of an issue when cucumbers get pushed to the back, which is colder.
What are you as cool as?