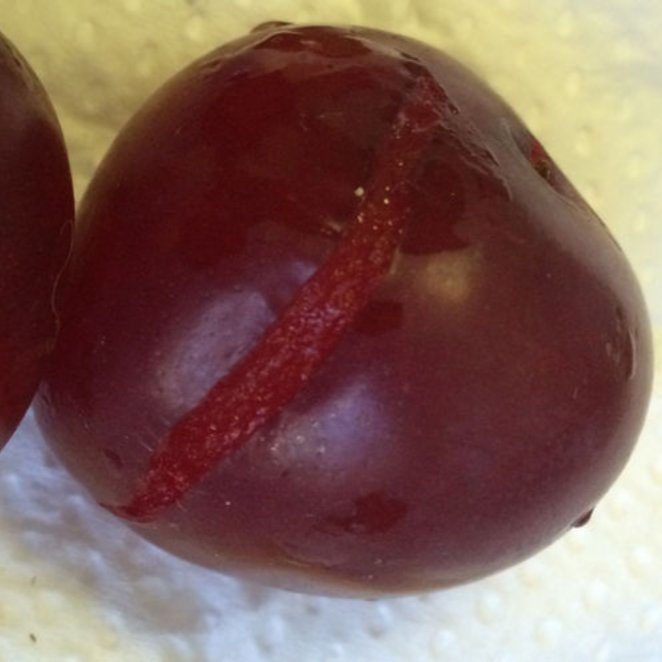 What you see: A plum whose skin has split open, exposing its soft, wet interior.
What it is: A cracked plum!
Eat or toss: Probably a toss. Something problematic could have made its way into the plum flesh. Eating this plum depends in part on your own tolerance for risk.
Is it safe to eat a plum with cracked skin?
First, let's talk about how we got here. Back when it was dangling off the tree, this plum didn't get enough water, then suddenly got too much water and plumped up so fast its outer skin tore apart. (Here at EatOrToss we certainly feel flooded with examples of how such surges of water can cause fruits and vegetables to do all sorts of strange things, in potatoes, cucumbers, peppers and tomatoes, to name a few!)
So, here we have a plum whose wounds are fresh and open to the world. If a bird landed on one or defecated nearby, the plums couldn't rely on the barrier of their skins to prevent microbes from settling into the open wounds. It's a similar story if a split-open plum fell to the ground, was handled by someone who didn't wash their hands, or simply bumped up against a dirty surface. A microbe would find the wet, nutrient-rich plum flesh to be a welcoming place to thrive and reproduce. If that microbe happened to be a human pathogen, which is rare, but still quite possible, then it could sicken you if you ate these plums.
Angela Marie C. Ferelli, a food safety educator at the University of Maryland, said she'd hesitate to eat a cracked plum. If it was already cracked when you bought it, you'd have no idea how long it had been cracked and what it might have been exposed to in the meantime.
Even if you pulled such a plum off a tree in your own backyard, it would be nearly impossible to say with confidence that it hadn't been exposed to something problematic.
Eating a split-open plum is a risk management decision
Like many decisions we make every day, deciding whether to eat these plums requires weighing risks. Have there been documented illnesses associated with cracked open plums? Not that I was able to find. But if someone was sickened from eating a cracked open fruit, unless it was part of a larger outbreak, it would likely go undocumented (the afflicted person/people might not even know what caused their illness). Do we know that the fleshy interior of a fruit is going to provide a more hospitable environment for pathogens. Yes. Is it possible human pathogens could be on the plums? Yes. Are there vicious human pathogens hanging out on the surface of every plum or every fruit for that matter waiting for their opportunity to dive in and later infect a person? Unlikely. There easily could be no bad-acting microbes nearby and you could easily eat this plum and be fine. But the risk is still real.
If you're determined to eat a plum like this, but still want to mitigate that risk, you could eat the unaffected areas, giving wide berth to the cracks. You could also cook it. But neither of these approaches is guaranteed to eliminate all of the potential risks posed by the cracks. For instance, some human pathogens produce toxins that can't be neutralized by cooking.
Can you eat a plum with healed wounds?
The calculus changes a bit if the wounds healed. Once an injured plant stitches itself up, typically with a woody-looking scar, microbes are again blocked from gaining entry. We generally tolerate healed scars in our produce; consider the rugged lines on heirloom tomatoes. Processing for potatoes, onions, garlic and other crops includes "curing," in which they are stored in special conditions to promote healing of wounds just after harvest.
The USDA considers plums with healed scars to have a "quality defect." Plums with open wounds, however, are deemed seriously damaged and expected to further deteriorate.
Yeah… you may not want to plumb the depths of this piece of fruit…