When we last left Stacy and Rese Cloyd, they had made a delightful salad from the abundant leaves of their monster farmers market cauliflower. But the salad didn't use all the kale-like cauliflower greens. So, they cooked up saag chana, an Indian dish made with chickpeas (chana) and greens (saag).
Mustard greens are common in Indian dishes ("saag" can be used as a general term for greens but often specifically refers to mustard greens). Because cauliflower is in the mustard family, Rese figured the leaves would be a natural fit.
We're calling this "saag chana" based on the star ingredients, but Rese built it around her recipe for another Indian favorite: palak paneer. That recipe calls for spinach (palak) and cheese (paneer). Rese subbed cauliflower leaves for the spinach and chickpeas for the cheese.
Fair warning – An impressive list of spices makes this recipe look long, but improvising based on what you have is encouraged! Here's Rese's take on modifications: "If you don't have some of the things (e.g., fenugreek leaves, cinnamon sticks, cardamom pods) you can leave them out or substitute dried/ground spices, you can adjust the amount of crushed red pepper up or down to make it more/less spicy, or you can use more/less greens or chickpeas depending on your taste."
Print
Cauliflower Leaf Saag Chana Recipe
---
Description
Use cauliflower leaves for this hearty dish!
---
Cauliflower leaves and other greens, depending on what you have on hand. Aim for about a pound of greens, which works out to about 6 cups. If your cauliflower isn't as leaf-endowed as Stacy and Rese's (check out His Leafiness at the bottom of this recipe!), you can supplement with mustard greens, kale, spinach or anything else you find appealing. If you have some stray veggies that need using up (bell peppers? broccoli?), toss them in!
Large onion, chopped.
Ginger, fresh and peeled. Rese used (4) quarter-sized slices and (1) 1-inch piece, cut into matchsticks. If you don't have fresh ginger, try powdered ginger. If you don't have that, you could skip it. Just keep in mind that the final flavor will change.
Garlic. Rese used three peeled cloves and one minced clove. If you don't have fresh garlic on hand, you could experiment with powdered.
Water. ¼ cup
Vegetable oil. 2 tablespoons
Ghee. 1 tablespoon. If you don't have ghee, you can simply use more vegetable oil
Salt. 1/2 teaspoon
Plain yogurt. 1/4 cup, whisked until smooth.
Chickpeas. 15 ounce-can, drained. Or, 2 cups if you cook them yourself. (Don't forget to set aside the chickpea water for making mousse!)
Spices. This recipe calls for lots of spices. It's also very flexible and hard to go wrong. Below is what Rese used, but feel free to treat it as a guide and work with what you have on hand or what you find most appealing.
Cinnamon. 2 sticks. Or about ¼ teaspoon ground cinnamon.
Cardamom. 5 green cardamom pods, lightly crushed to break skin. Or about 1/2 teaspoon ground cardamom.
Crushed red pepper flakes. 1 teaspoon
Ground coriander. 1 tablespoon
Garam masala. 1 teaspoon
Dried fenugreek leaves. 1 teaspoon
Ground paprika. 1/2 teaspoon
---
Instructions
Tear cauliflower leaves off the thick parts of the stalks (but set the stalks aside—we have plans for them). Stack the leaves and roll them like cigars. Then slice them with your knife perpendicular to the "cigar" for a chiffonade style cut (just as in the salad Stacy and REse also made with the leaves from the very same prolific cauliflower). If you'd rather tear or chop the leaves in another way, that's fine. Rese likes the chiffonade chop for its efficiency and because it yields small, uniformly sized pieces that cook evenly.
Place cauliflower leaves, any other greens, onion, ginger slices, peeled garlic, and water in a large pan and bring to a boil over high heat.
Reduce heat to medium low, cover, and simmer until greens are wilted and onion is tender, about 10 minutes.
Let cool, then pulse lightly in a food processor until just minced (don't make a smooth puree) and return to the pan. You can also skip the food processor for a chunkier dish. Rese said that her chiffonade chop, which efficiently chopped the leaves into small pieces, made it easier for her to forgo this step.
Heat the oil and ghee in a small saucepan over medium-high heat and sauté ginger matchsticks, cinnamon sticks (or ground cinnamon), and cardamom pods (or ground cardamom) for one to two minutes, until the ginger is golden.
Add the minced garlic, crushed red pepper flakes, coriander, garam masala, fenugreek leaves, paprika, and salt. Continue cooking for about a minute.
If you used cinnamon sticks and cardamom pods, remove them.
Add yogurt, stirring constantly.
Transfer spice and yogurt mixture into a large pan with the greens. Cover and simmer over medium heat for 10 minutes.
Stir in chickpeas. Cover and simmer over medium heat for 10 minutes.
Serve over rice or naan.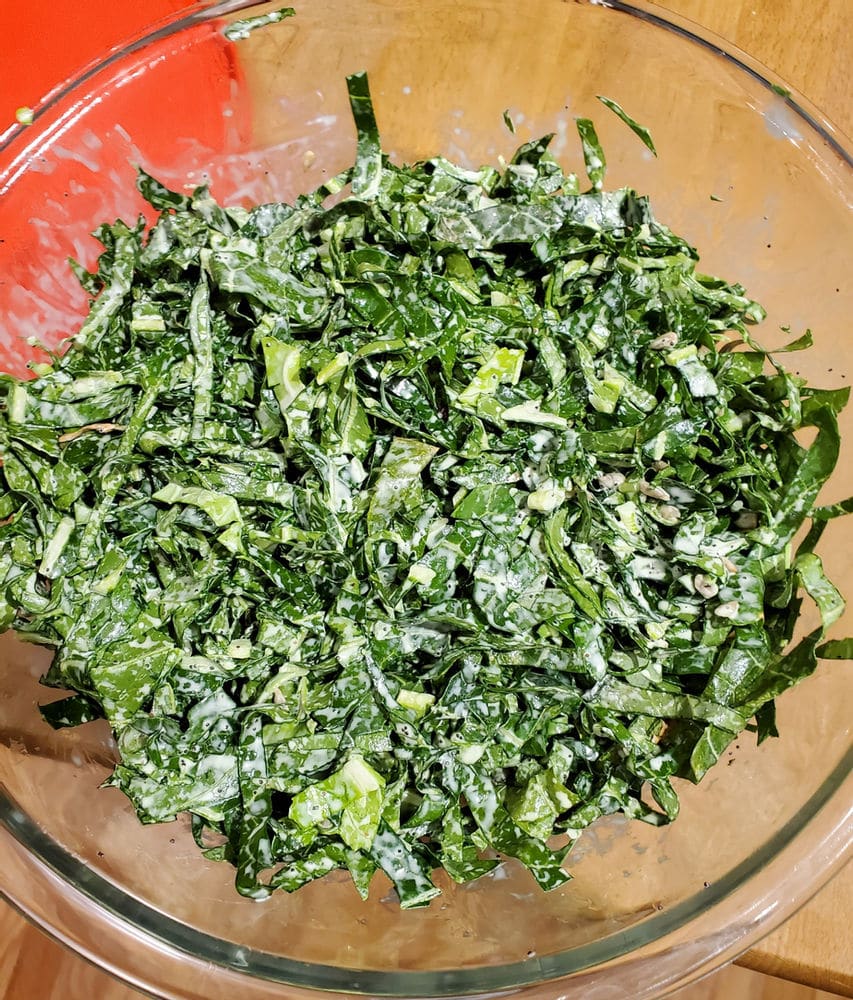 You may also be interested in…