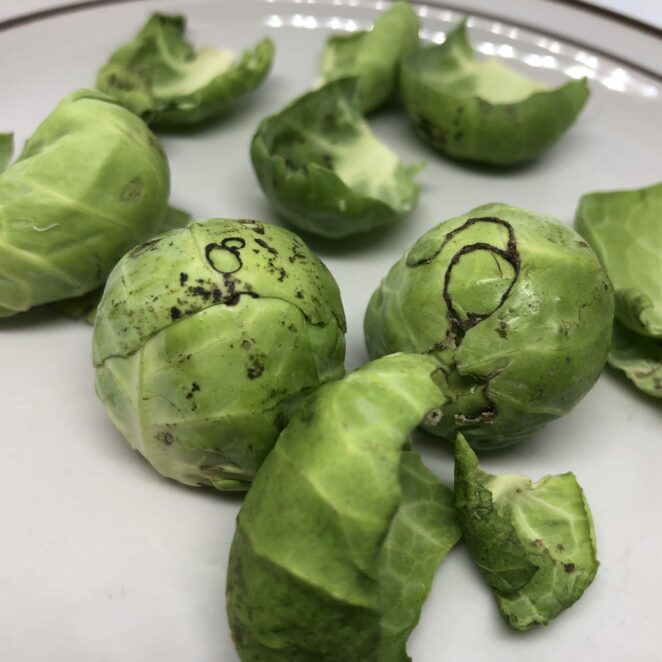 What you see: Brussels sprouts with black discoloration and holes.
What it is: Evidence that some other creatures have been enjoying your sprouts. 
Eat or toss? Don't eat the damaged leaves. But if you can peel them away and find pristine leaves underneath, the rest of the sprout should be fine to eat.
Can you eat Brussels sprouts with blackened leaves?
Here's the deal: it's not possible to eyeball something like these bedraggled Brussels sprouts and know exactly what's going on and what creatures, small or very, very small, might be at work. But I checked in with Jorge Fonseca, a scientist at the U.S. Department of Agriculture. His best guess—and he made clear it was a guess—was that an insect chewed on the outer leaves and a fungus took advantage of the open wounds, and helped turn the ragged edges black.
Ick! But it makes sense! So what does that mean for your dinner prep? Mostly just that it's going to be more work.
No matter what exactly caused the black encrusted holes, you won't want to eat them. First off, they don't look good. Second, they might not taste great. Third, while the microorganisms at work here are probably spoilage microbes—that is, tiny creatures whose goal is to eat plants, not make you sick—it's unlikely, but not out of the question that something (or someone) you don't want to eat is in the mix. You can mitigate that small additional risk of human pathogens by removing the damaged leaves. As long as the Brussels sprout below the removed leaves looks fine, you're good to go.
"The leaves form a barrier," said Fonseca, a research leader at the Agricultural Research Service's Food Quality Laboratory in Beltsville, Md. He explained that the outer leaves, even though damaged, could still protect the inner leaves.
As an extra level of precaution, Fonseca suggests cooking the sprouts or mixing them with an acidic dressing if you're planning to eat them raw. Personally, he said, he likes them braised.
A variety of conditions can lead to black on Brussels sprouts
A number of different diseases can cause black areas, with or without holes, to appear on Brussels sprouts. Horticulture Innovation Australia says a bacteria (Pseudomonas syringae pv. maculicola) can cause small black or purplish spots and speckles. The bacteria, more common in wet environments, usually climbs aboard in the field, but its handiwork can become more apparent after harvest.
For more images of Brussels sprouts and their cousins with various conditions, black-spotted and otherwise, check out this guide to brassica diseases from the Agriculture and Horticulture Development Board in the UK.
SOURCES:
Jorge Fonseca. Research Leader. Food Quality Laboratory, Beltsville, Md. Agricultural Research Service. United States Department of Agriculture.