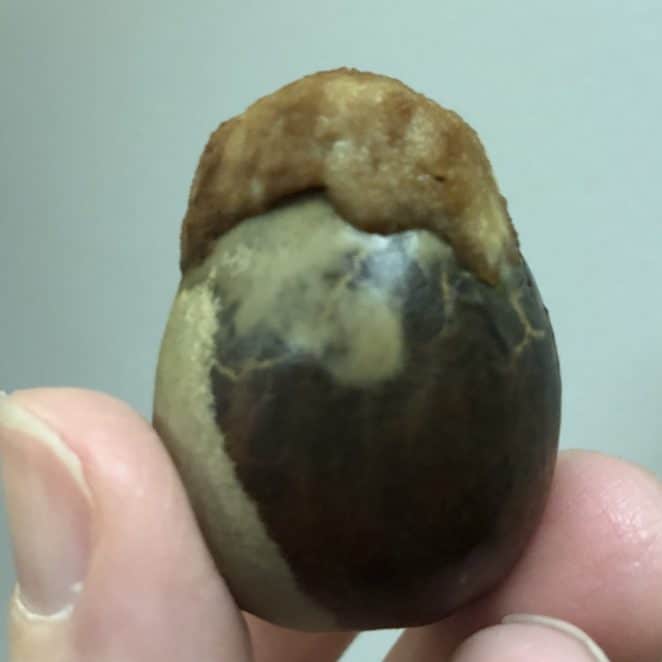 What you see: A hunk of avocado flesh is stuck to the pit. The stuck-on flesh could be brown or green.
What it is: An avocado that didn't ripen properly. This is called "flesh adhesion."
Eat or toss: The clump stuck to the seed isn't appealing and may taste off, though it's not unsafe. The rest of the avocado should be fine, though its ripening didn't go quite right so it probably won't be top quality.
Why does avocado pulp sometimes stick to the pit?
Before an avocado grows into the soft, pear-shaped delight we all know and love, it starts out as a hard and compact baby fruit. (You can see what that looks like here.)
In the avocado's early days, its developing flesh clings tightly to its developing seed. But as the avocado matures and then ripens, that flesh softens and releases its grip on the seed.
That is, assuming all goes according to plan.
If sections of the avocado's rich green pulp fail to ripen properly, they may never give up their hold on the seed.
That poorly ripened tissue might be a rough hunk of green flesh. It might also be a more smoothed and brown clump, as pictured above. You're more likely to see brown if its cells are damaged (which can happen under certain harvest and storage conditions).
Kristine White, director of global quality assurance and research and development at Mission Produce, wrote to me that the specific reasons flesh adhesion occurs aren't always clear. But, she said, it's most common in less mature fruit and more likely when growers don't follow best practices. If, for example, they store avocados at too-high temperatures while they are ripening after harvest, flesh adhesion is more likely. Regardless of storage conditions, it's is also more common in the first batches of fruit harvested in a season.
White said that Mission, which describes itself as the "global leader in the worldwide avocado business," tries to avoid seed-flesh attachment problems by picking and packing the fruit under optimal conditions and following specified cold chain management.
Is it OK to eat an avocado with pulp stuck to the seed?
But, if you find an avocado like this, there's probably no need to cancel your plans for the rich green fruit. You probably won't want to eat that weird bundle of flesh stuck to the seed simply because it won't taste good, but the rest of the avocado is still fine. Just keep in mind that because it had some ripening misfires, it may not be the best avocado you've ever eaten. 
SOURCES:
Mission Produce. Kristine White, director of quality assurance and research and development. Via Jenna Aguilera, marketing communications manager. Email exchange. Spring 2022.
The International Avocado Quality Manual. Edited by Anne White and Alan Woolf (Plant & Food Research, New Zealand); Peter Hofman (Primary Industries and Fisheries, Department of Employment, Economic Development and Innovation, Queensland, Australia); Mary Lu Arpaia (University of California, Riverside).